On Sunday, the 4th of June a van crashed into a tree on the Trakia motorway between Plovdiv and Sofia, near the town of Pazardzhik. The result of this road crash are 9 dead people from Afghanistan, Pakistan and Syria plus the 16-year old Bulgarian teenager, who drove the car without a driving license. Until today, two migrants are still in critical condition. Additionally four other migrants have to stay in hospital. The border police  Commissioner Svetlan Kichikov stated that, the border police registered "2054 illegal attempts to cross the border" in 2017 so far.
Every year migrants are dying in Bulgaria, because they seek for security and shelter in the EU. Many are risking their lives, which are already in danger in their home countries. The smuggling business in Bulgaria is flourishing, this year already 53 people were arrested for transporting people 'illegally'. Some of them are even accused of trafficking people via the airport of Sofia.
The reason (among others) why people are still being 'smuggled' through Bulgaria is the official closing of the, so called, humanitarian corridor (also known as "balkan-route") in March 2016, which was forced by the governments of several European countries. Without a legal corridor and being denied safe traveling such provoked 'accidents' will happen again and again.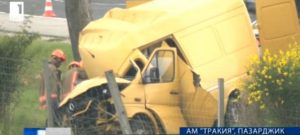 Photo credit: Bulgarian National Television (BNT)
Update: The UNHCR came out with a report in August which added together the numbers of interceptions at the Turkish-Greek and the Turkish-Bulgarian land borders from January-August 2017 and mentioned a quantity of 17,067 people. Only in August a number of 464 was intercepted at the Bulgarian-Turkish border by Turkish land forces.